I know this blog is a few months late, and I am so sorry about that! 2016 was a crazy year for my family. I gave birth to our beautiful daughter Praise Royal September 1st, released two new songs in Australia & watched my husband achieve his life long goal of winning the World Title in the Tie Down Roping in December. Let's just say we have had a busy past 6 months!
Praise Royal is 5 months old today — I know people told me that they grow up fast and this is so true. Time has flown by, I am loving every minute of being her Mum. She is such a happy fun baby girl.
I had several people contact me about where I bought my outfits I wore out in Las Vegas for the NFR. So here is the info y'all have been waiting for. Keep in mind since some outfits you can only wear once as they are seen in so many photos I choose not to spend a fortune buying clothes for the NFR but instead look for good deals. Round 2, 7 & 8 were some great buys!
Back number presentation: Full length white dress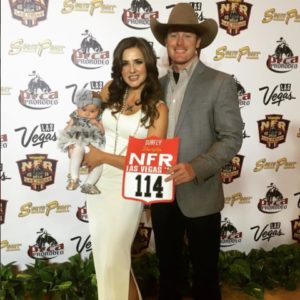 The back number presentation is one of the funnest nights during the 16 days we are in Las Vegas. This is the night all the contestants and their partners get to dress up. Each year I try to wear something different. I have never wore a full length dress in the past and and have never worn white. Yes not a very good color to wear with a baby but thank goodness Miss Praise did not have any accidents during the night lol. I bought this dress from Jessie James Deckers clothing line. This dress cost me around $70. Tyson & I like to try and match at the back number presentation but this year it was all about what Praise was wearing. I thought it would be cute if Praise & Tyson matched both wearing grey. She was such a good girl through out the whole time in Vegas. I am sure by the end of the two weeks she was sick of me taking photos of her.

Round 2: Maroon Jumpsuit & Chocker Necklace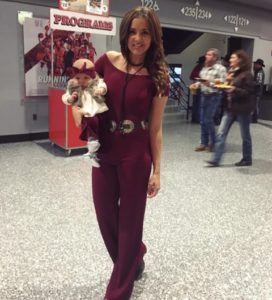 This would have to be one of my favorite outfits. This little number I found online at lulus.com I love this store. This Jumpsuit was $49 and the Chocker necklace was $8. I love that this jumpsuit was high waisted & off the shoulder. I personally like to wear a choker necklace with off the shoulder outfits, chokers are very in fashion at the moment and not expensive to buy. This season high waisted outfits are also in fashion. It was fun being able to put a western flare to this outfit by pairing it with a concho belt.

Round 4: Leather Skirt & off the shoulder top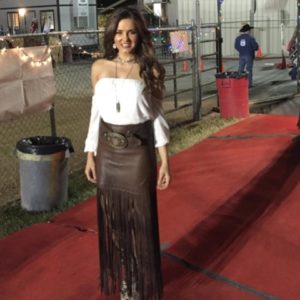 I have always wanted to get a long leather fringe skirt. I was looking on Facebook and noticed Wild Instincts had some amazing custom skirts. They were kind enough to lend me this skirt to wear for Round 4 of the NFR. I paired this skirt with an off the shoulder chiffon white shirt, my Indian style Corral Boots, a silver & turquoise choker & one of my long chain Designs by Shea Feather NFR pendents. I wanted to add some personal touch to this outfit so I wore the very first NFR Go Round Buckle Tyson ever won from 2008.

Round 6: Velvet Bells with Cold shoulder top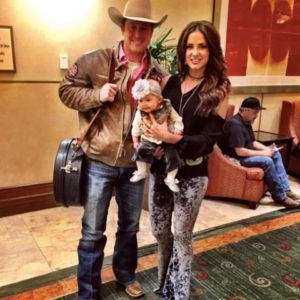 One of my dear friends Whitney Knowles who is married to Steer Wrestler Blake Knowles has amazing fashion sense. Every NFR I send my outfit ideas and choices to her to help me put the final touches on it. This outfit is thanks to Whitney. She has a great little online boutique called 26 mile collective, I got these great grey velvet bell bottoms from her store. The black off the should shirt was from Target.

Round 7: Black Dress with Turquoise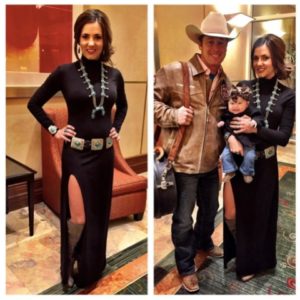 This black dress I bought online from Pylo.com for $58. This is one of the best buys I have gotten, my girlfriend Whitney was the one who told me I must buy this to wear at the NFR. This dress was not only warm for the chili winter nights in vegas but still classy and sexy. I paired this black dress with a turquoise necklace and belt. Any plain colored outfit can be dressed up with a little turquoise.

Round 8: Brown Dress and Duster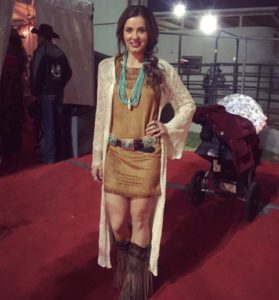 This little outfit was styled by Kelsey Darby owner of Lace Cactus boutique in Hico Tx. I loved this outfit from her store. I felt a little like Pocahontas. This outfit had a cool Indian vibe to it. This little suede brown dress may have been too cold to wear by itself at night in December but paired with this great cream duster it was just perfect for a Vegas night. Pairing this outfit with Turquoise added the final touches. I love these new Corral fringe boots that I wore this night, the fringe can be removed if you want to wear it with a more simple outfit. I was also able to wear these same Corral boots and cream duster with a pair of jeans for a day time outfit also. I love items you can wear with multiple outfits!

Round 9: Performance outfit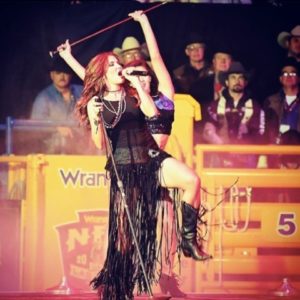 When we arrived into Las Vegas for the NFR this year I had not planned to be performing in the opening at the Rodeo. However 36 hours before the 9th round I got a call asking if I could fill in for the act they had booked as the other person was no longer able to perform. For anyone that knows me I like the be organized. This being said the day before my performance me, my Mum & Praise were shopping at the convention center to try and find something I could perform in. In my Vegas closet all I had was a body suit with an open back, a pair of black shorts & a pair of black fringe Corral boots. I knew this outfit was still missing something. While we were shopping I ran across this long fringe skirt! This was perfect, I was wanting to find something that stood out on stage and was fun considering we were in Vegas!
It was such an amazing NFR for us. Being able to watch Tyson achieve his life long goal of winning the world coming into the NFR he was number 14 so going into the finals we were just so grateful to be there. Winning the World was such an amazing blessing. Also me getting to perform last minute and us having Praise in the audience to watch it all. It really couldn't have been a more amazing two weeks. 2016 definitely has its ups and downs for us- one of Tysons good horses fracturing his skull and nearly dying, our new truck breaking down during 4th of July Rodeos, me going into labor when Tyson was on the other side of the US etc. The truth is even in the hard times if you can put your trust and faith in the Lord he will always get you through and blessings will come your way.
I am going to try and do my best to keep y'all update with more blogs through out 2017. I will also try and include some health and fitness blogs for all you pregnant girls or mothers. I know it's always great to share workouts and learn from each other.
Have a blessed day!
Shea Fisher-Durfey