Hope everyone had a very Merry Christmas & Happy New Year. It has been a busy past 6 weeks for Tyson & I but a lot of fun. Here's a recap: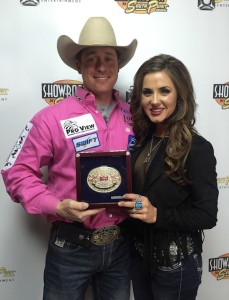 We left Texas Nov 28th to head out to Las Vegas for the NFR Rodeo & we were in Vegas for over two weeks. I must say packing for two weeks is not the easiest thing since Las Vegas can be 60 degrees in Winter or 28 degrees haha, that being said I am so glad we drove our truck and trailer out there to transport all my clothes. Over all Tyson has a great finals he won 2 rounds and place in two others- breaking his fastest record time twice with time of 6.7 and 6.8. Saturday Night Dec 5th was an amazing night for both Tyson & me.  I had the chance to perform one of my songs "Fast" in the opening ceremony at the NFR to a sold out crowd of 18,000 people & Tyson also won the go round. This was a night we will remember for a long time. It was so great for the both of us to be performing in the same arena & to get to go to the South Point Buckle Presentation and bring our family on stage with us.
After the NFR was over we traveled back to Texas to get organized for our Trip back home to Australia for Christmas. We left for Australia Dec 20th and have been able to spend the past two weeks with my family traveling up the East Coast of Australia & enjoying the beaches on the Sunshine Coast where I grew up.
Between snorkeling on the Great Barrier Reef, Surfing the waves, working out along the beach every morning & spending time with family & friends it has been such a relaxing fun trip.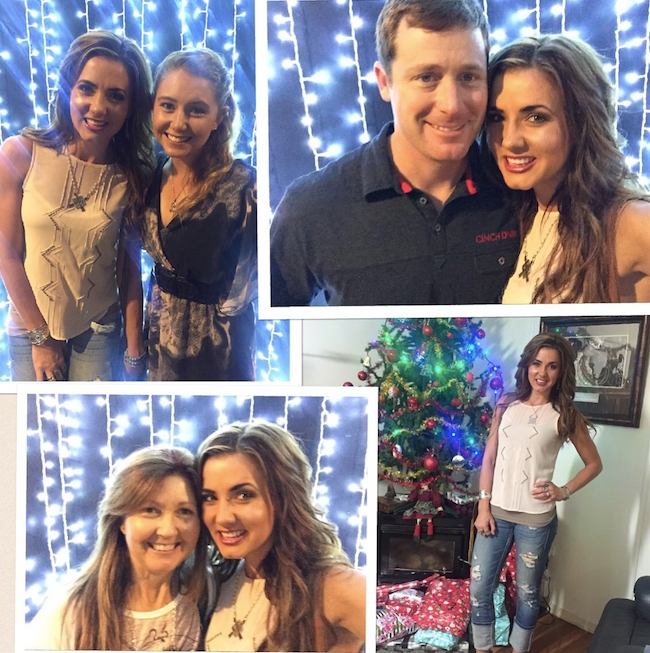 The past few days I flew down to Newcastle NSW to shoot two brand new music videos for my up coming singles to be release back home in 2016 and also in the US. I am so excited for you all to see these new music videos & hear some of my latest music.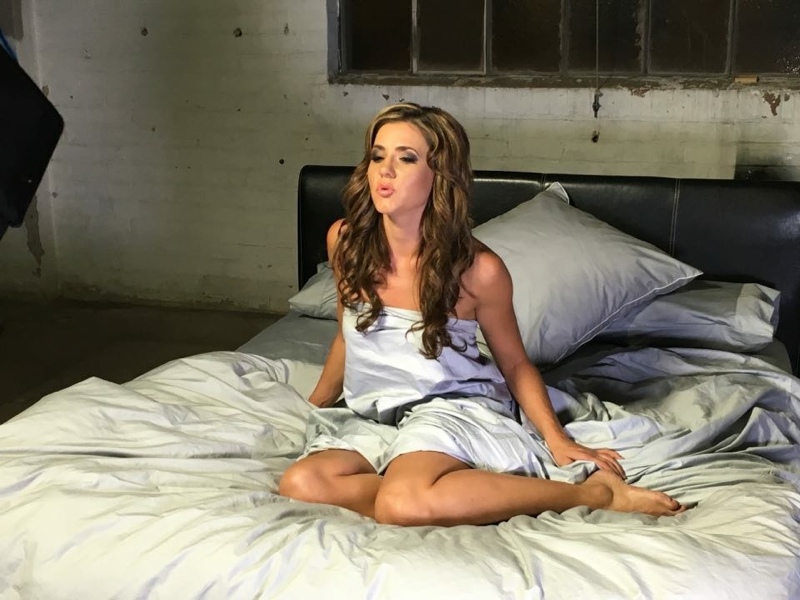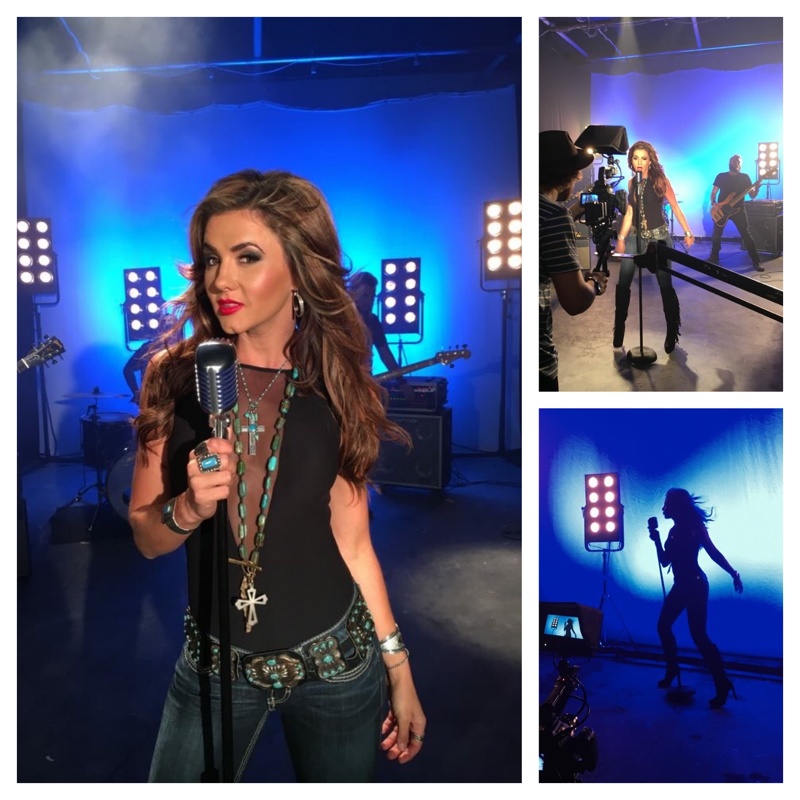 During the NFR I had lots of you girls asking me where I buy my outfits from so I thought I would share some of my secrets with you 🙂 Sorry it took me so long to put this blog together but like I said it's been a busy past few weeks for me.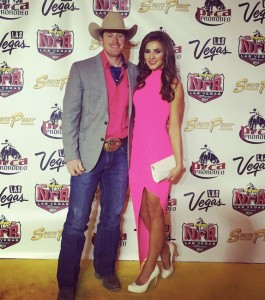 Here is my NFR Back Number Dress, this year I wanted to do something fun so when I seen this high low style dress I fell in love with it. I thought it would be cool for me to sport my husband's trademark color of pink.
I found this cute dress from a website I love called hellomollyfashion.com This is a great website to buy classy high quality dresses at an affordable price.
Round 1 outfit. You do not have to spend a fortune to get great outfits. That's always been my mind set when buying clothes. This awesome white fur embroidered vest & matching orange 3/4 top were from Target. This fringe skirt was from hellomollyfashion.com & these black fringe boots were from an online store OHM BOUTIQUE.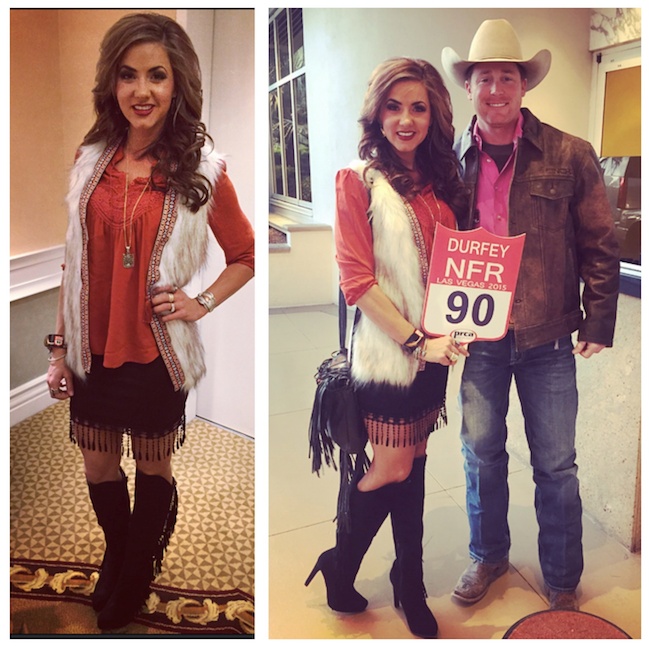 This is my Day time outfit when performing on the Alexis Bloomer Show Live. I am a big fan of body suits are you don't have to make sure they are tucked in every time with sit down, this body suit is from boohoo. These jeans are some of my favorites I like to create my own style jeans so I took a pair of my Cowgirl Up Jeans and tore some holes in them to give them the ripped look than I tied a Cowgirl Up shirt around my waist. I love being able to dress up or dress down an outfit by tying a plaid shirt around your waist. When Tyson was signing autographs for Corral Boots I seen these awesome fringe boots and fell in love with them so Corral was nice enough to give these to me. They were perfect for this outfit. You will notice in all my outfits I am sporting my Designs by Shea Jewlery. I love to layer Necklaces & Bracelets. Accessories are a must!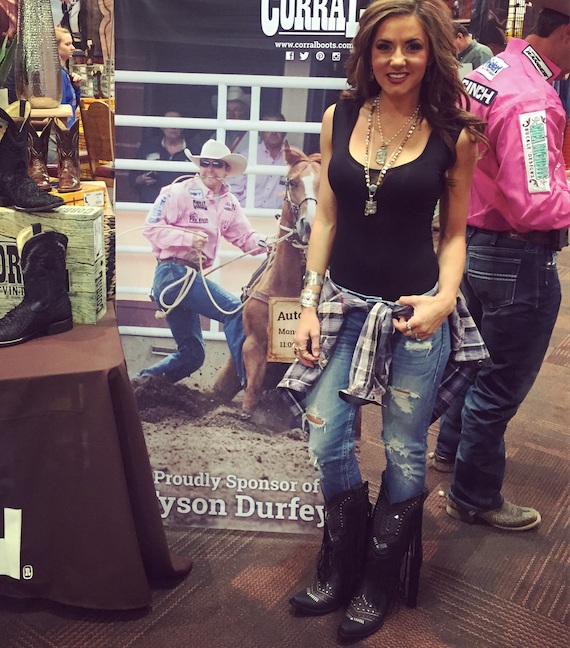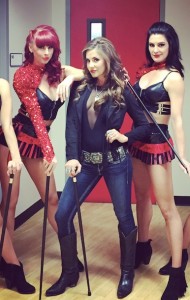 Round 3- This was the night I performed at the Rodeo. This was one of the hardest outfits to decide on. I had lots of help from a good friend Whitney Knowles and my Husband Tyson deciding which outfit would look the best to wear. Knowing I was performing at the Rodeo to 18,000 people I wanted to make sure I was dressed correctly. Not too over the top yet we it was in Vegas so the outfit needed to make an impression. I ordered this body suit online from BeBe- I thought it was really cute with the sheer area at the front. I wanted to make sure I still looked respectable though so Tyson said he thought this black fringe jacket would pair well with my sheer front body suit. He was right- it was a perfect match. I paired this Body Suit & Jacket with my Cowgirl Up jeans, some tall black boots & a Turquoise concho belt.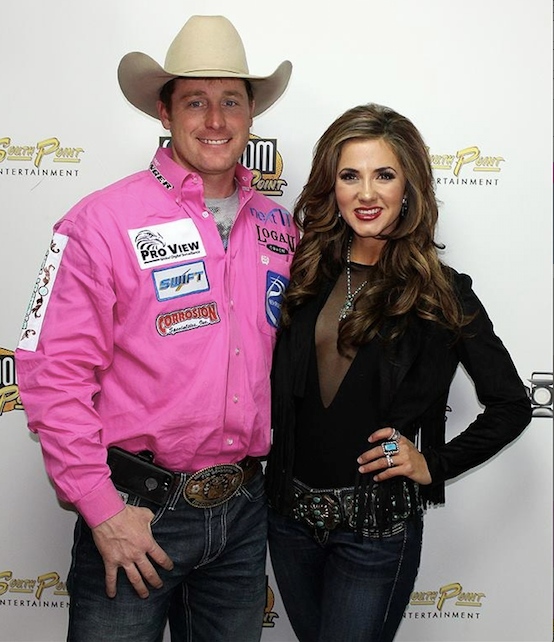 Round 5- Tough enough to wear pink night is always a hard one to find the perfect outfit for. Last year I wore a sequence dress so I wanted to stay away from the sparkles this year so I decided to go for more of a JLO look. I seen this photo of JLoO a while ago and knew I needed this Pink Jumpsuit from Kohls. This was the perfect outfit for pink night as I was able to Country it up with a Leather Rock belt, Some Turquoise Designs by Shea Jewlery & these boots from online store OHM. BOUTIQUE.
Round 6- This outfit got so many comments on social media from you girls wondering where I bought this skirt. This skirt I found on an online store www.lulus.com in the photos it looks Gold but it is actually a Silver Sequined Maxi Skirt. I knew I wanted to wear an outfit like this but had no idea where to buy this skirt so I started googling Silver Maxi skirts until I found the one I wanted. I knew this skirt was very dressy so I decided to make it a bit more casual by tying up a normal plain singlet top and wearing some boots instead of heels with it. I must say this was one of my favorite outfits as I know Vegas is one of the only places you can get away with this much sparkle.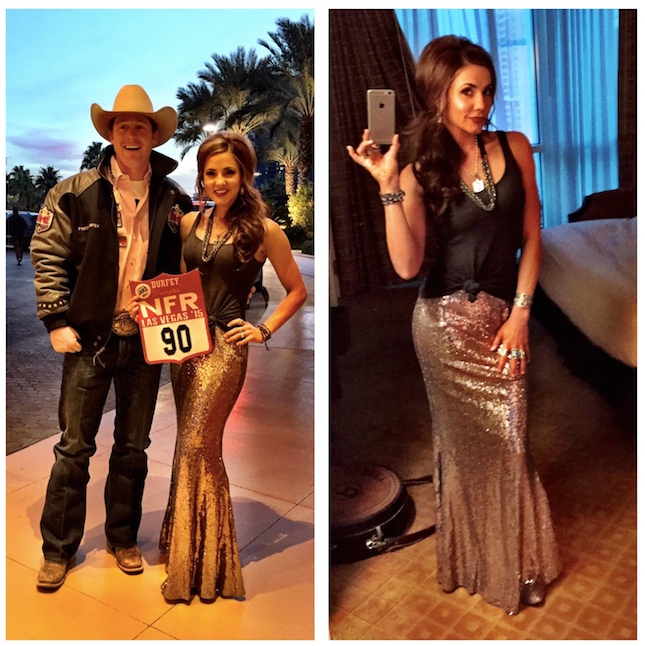 I was asked to perform at the Ladies Luncheon which is such a great event. I decided to that this white high low skirt had a nice country flare to it that I bought from a boutique in Weatherford TX. I wanted to pair it with my Cowgirl Up Denim shirt, Cross Turquoise Concho Belt & these Tan & Turquoise Corral Boots.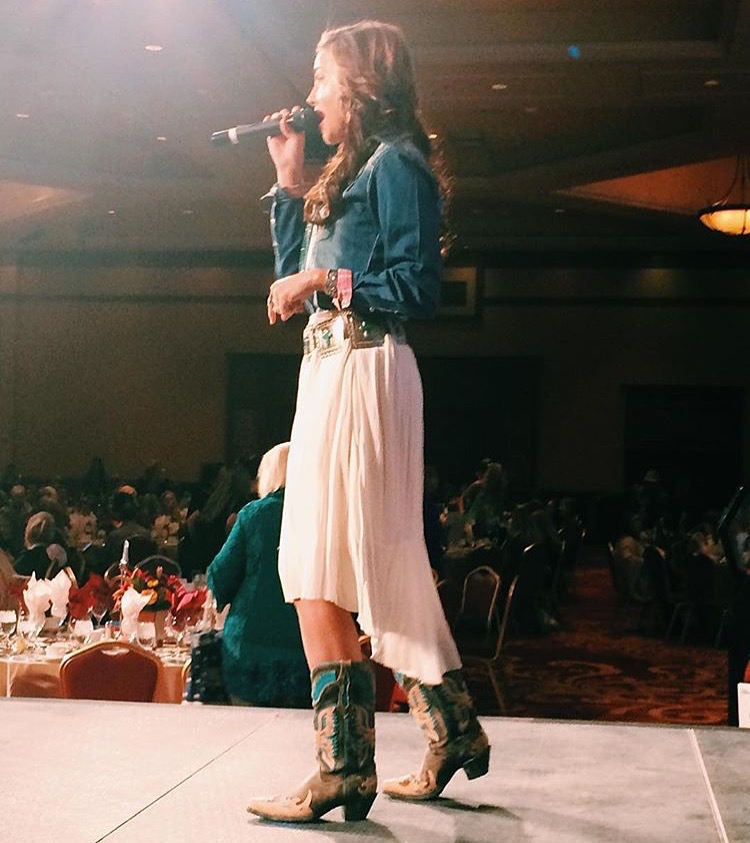 Round 8- This is another outfit I had so many people asking where I bought the skirt from. I got this skirt on a website called Nasty Gal, it's a fun website to check out. This skirt is so fun because it has that sexy split but it's not too high where you feel uncomfortable wearing it. Since this outfit has so much sequined to it I wanted to combine with a simple 3/4 white shirt to make it a little more casual. I tried on lots of shoes with this outfit but kept coming back to these Tan Fringe Booties. I once again combined my Designs by Shea Jewlery with this outfit- I tried to lean more towards the Golds & pearl style Jewelry for this outfit. I love in Vegas you are able to combine Country Girl with a bit of Diva girl. It's always fun putting together Vegas outfits.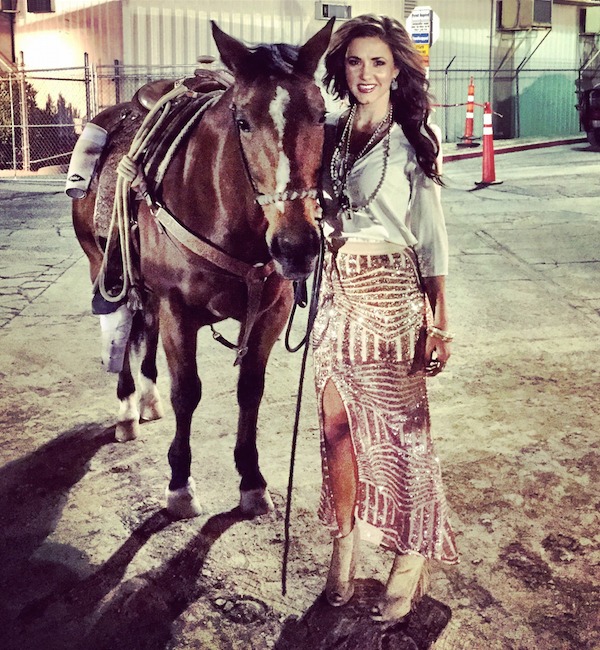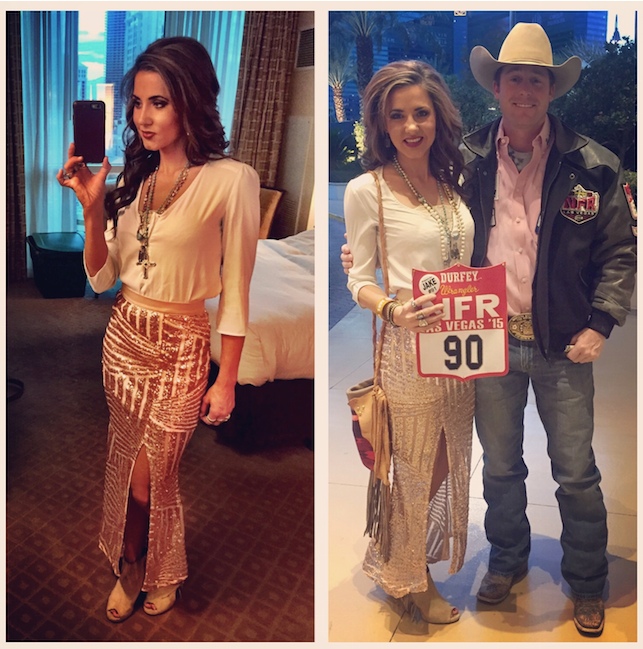 Tyson & I had the chance to be on the Flint show. This is one of our favorite shows in Vegas, there is never a dull moment with Flint haha. I decided that I wanted to wear my Cowgirl Up Jeans & Plaid shirt with a concho belt for this performance. I wanted to have more of a Country look since this show is aired on RFDtv and I am a Country girl at heart. You will notice this is the same plaid shirt I tied around my waist earlier on in the week for the Alexis Bloomer show. There is nothing wrong with mixing and matching outfits.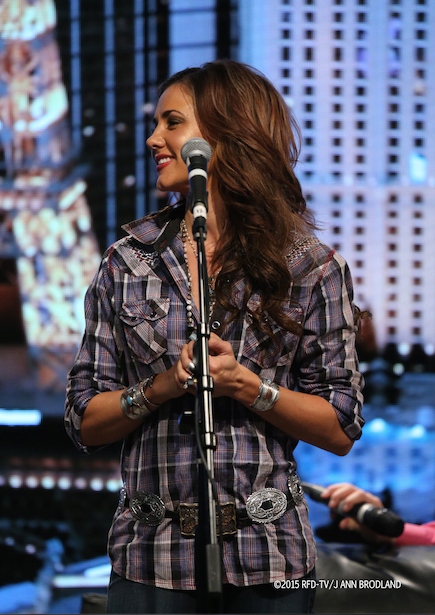 Round 9- I felt like Round 9 was a Fringe kind of night. I bought this Fringe Skirt from www.lulus.com I loved that it was knee length and not the typical black or brown like most fringe skirts are. I had this awesome black sheer Cowgirl Up shirt in my closet that has been one of my favorites for a while now and so I paired the two together. To bring some color into the outfit I wore my Turquoise Jewlery with my Turquoise Concho Belt and some cute little black fringe booties I got from Southern Honey Boutique.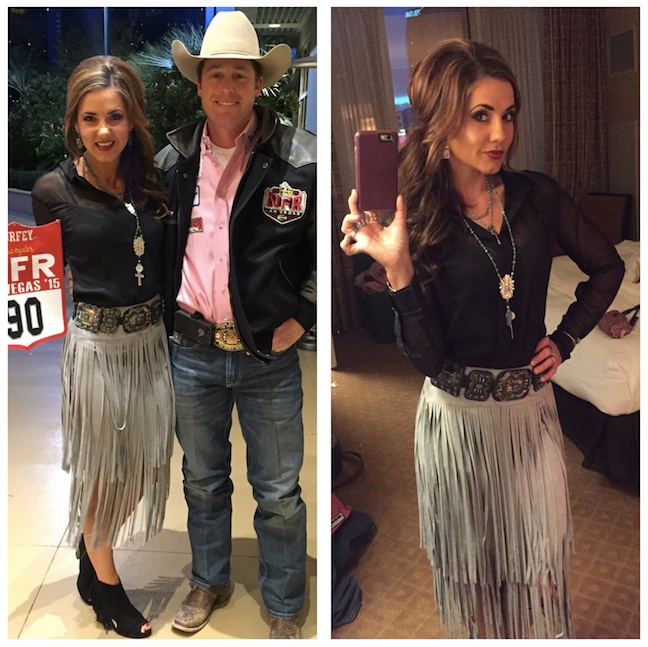 Here was my final day outfit in Las Vegas. I was signing autographs for Cowgirl Up and found this awesome Cripple Creek Fur Vest in their booth! This outfit was perfect for a cold day. Some Cowgirl Up Jeans, Cowgirl Up Plaid Top matched with a Cripple Creek Rabbit Fur Vest & some Fringe Corral Boots.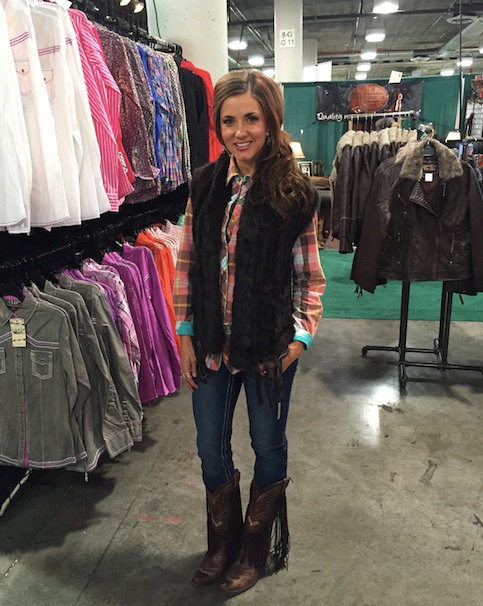 Hope this info was helpful for some of your girls. Just remember a few of my rules.
1/ It's ok to mix and match outfits and not have to buy brand new outfits every time you go out.
2/ It's also ok not to have to buy big expensive brand name clothes every time, create your own style.
3/ You can dress any outfit up with Accessories- they are my best friend.
4/ Be brave to try different things that not everyone else is wearing.
Hope 2015 was awesome for you all and may 2016 be even better!
Shea XO